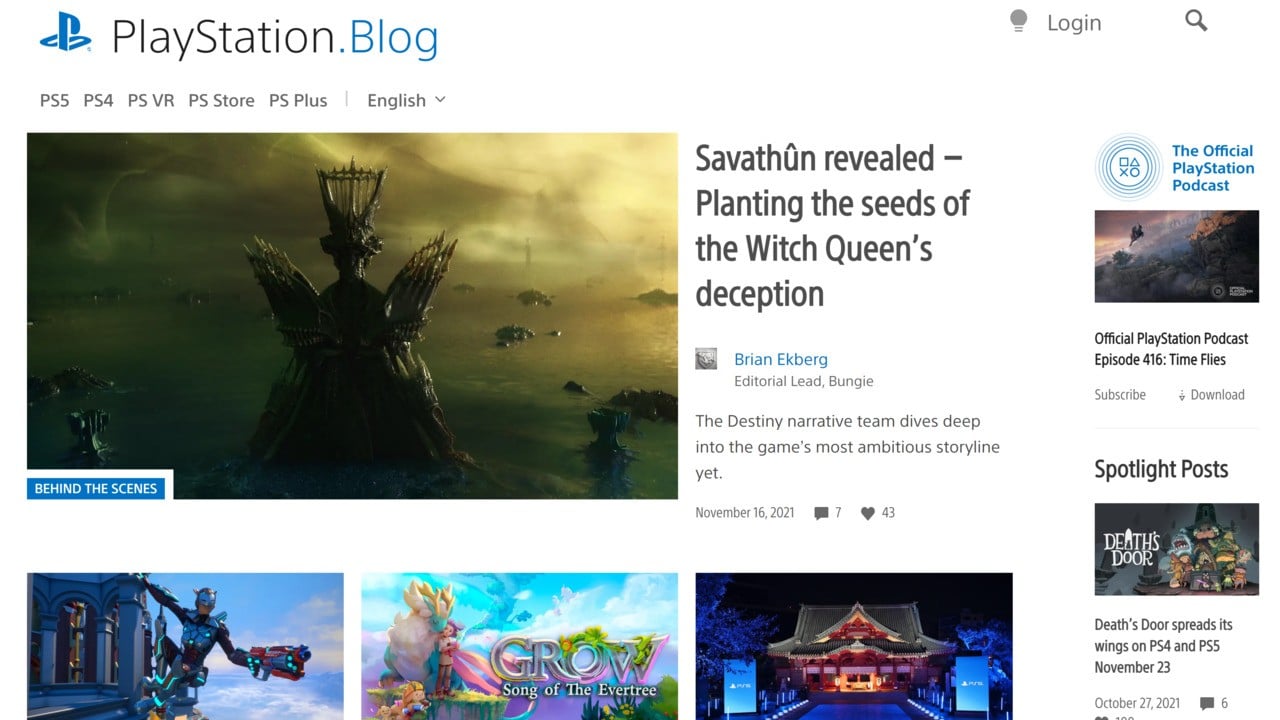 What do you think of the PS blog in 2021?
As we consider Push Square to be a place where avid PlayStation fans can come together and discuss their favorite hobby, the PS Blog is the official home of Sony and the place to get news straight from the horse's mouth. Often times, we take that information and extrapolate it here, adding comments and polls for you to share your opinion. But is the PS Blog reaching its full potential?
Even as the publisher of the world's largest independent PS5 and PS4 website, this author has his eyes set on the PS blog more and more. The site is updated daily, but rarely significantly, with content sponsored by development partners that completes the publication cycle between PS More and PS now updates. Every now and then you'll get a high profile post like Jim Ryan, but these rarely feel authentic.
As of this writing, the headline is a "Behind the Scenes Look" of "Savathûn". It is only when you read the subtitle that you realize this is related to Destiny 2: there is nothing in the title that illustrates this. By scrolling to the bottom of the page, you can go back to November 4, which means almost nothing has been posted in the past two weeks.
There is an article on how to draw Astro Bot, which includes some interesting concept illustrations from Team Asobi. And then one of the main features highlighted concerns Ghostbusters: the afterlife, the new film from Sony Pictures. Obviously, we understand that the Japanese giant internally promotes synergy between its divisions, but that doesn't seem out of place.
We might have rose-tinted bezels, but we remember that the PS Blog was the ultimate destination for PlayStation news not too long ago; these days, it feels like a sporadic mishmash of sponsored posts that no one really pays attention to. There has been some talk recently of offering developers spots on the PS blog as part of the platform owner's promotional support, but do you even read them?
It feels like the website has lost much of its identity, and much of what it publishes is just noise. There was a time when it included features where you could share your ideas for firmware updates, and these could be voted on by other users based on their importance. All of that functionality has been removed now, and while you can still comment, it feels like you're talking into a vacuum.
Of course, the PS blog will always be the occasion for Sony to make major announcements. So next time PSVR helmet is featured or God of War Ragnarok gets a release date, you'll find it first on the PS blog. In that sense, it serves its purpose, but it should be much more. It should be a direct link between fans and creators, but the site looks outdated these days.
In fact, like much of PlayStation's approach over the past couple of years, it's a frustrating endeavor. Whether or not it was nostalgia, the end of the PS3 era and the start of the PS4 was a collaboration between fans and the company. These days, it looks like Sony is just filling the dead air until it's ready to make its next major announcement, whatever the time. PS Blog is a symptom of PlayStation's approach to 2021.
---
What do you think of the PS blog in 2021? Do you think it's as good as it always has been, or is everything a little stale? Do you really care about the official Sony website? Let us know in the comments section below.