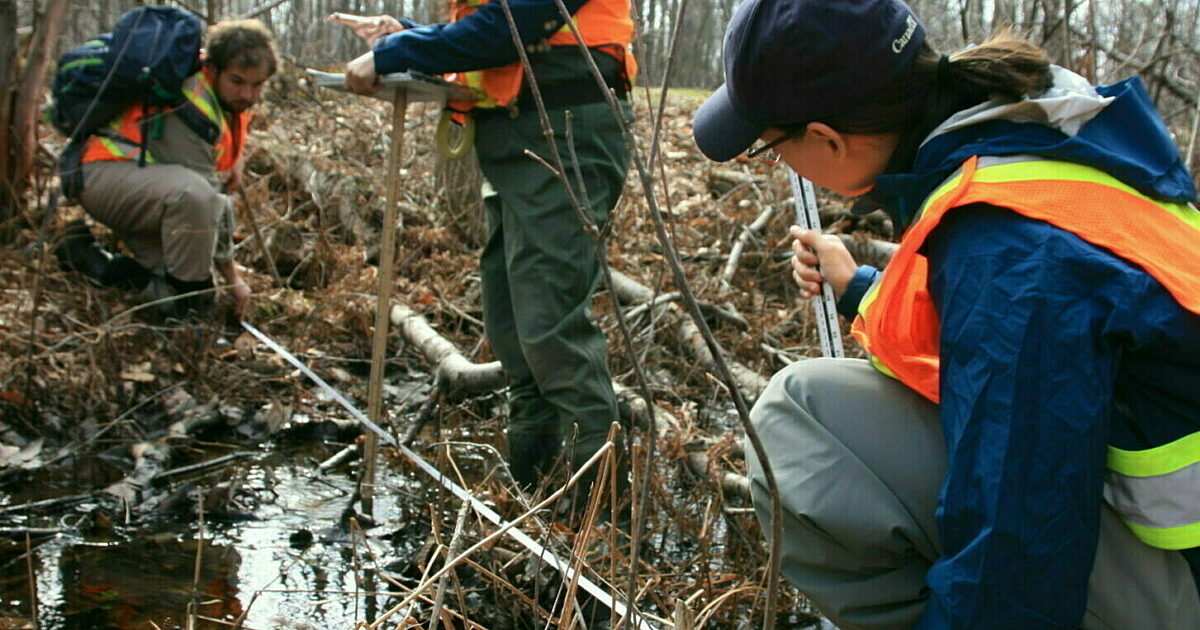 Urban Biologist: For the Love of Nature
Camille Tremblay
Biologist, Capital Stewardship
When people think of Canada's capital, they often think of Parliament Hill, the Rideau Canal and important national institutions.
But what I'd like to see is that when people think of the capital, they think of the many green spaces that set it apart from other comparable big cities.
As urbanization develops and intensifies, green spaces become more important. As a biologist at the NCC, my role is to protect these lands and ecosystems which occupy 550 km² of federal lands. It's a job that comes with challenges, but also with victories, friendships and memorable moments.
From outdoor enthusiast to career biologist
The Capital's parks are very familiar to me, because I grew up in the region and I have always had a great love of nature. In 2006, I started working at the NCC as a student while finishing my master's degree at the Université de Sherbrooke. Since then, I have worked at the NCC, in the field of the environment.
Today, my job is to ensure that projects have the least possible impact on the environment of urban lands managed by the NCC. These spaces include many parks and other green spaces that you are no doubt familiar with: the area around Mud Lake, as well as the Jacques-Cartier, Leamy Lake and Remic Rapids parks.
What is urban land?
Urban lands, as the name suggests, are lands located in the city, but they are also green oases. These are smaller and often more fragile spaces than large expanses like Gatineau Park and the Greenbelt, but they also contribute to the quality of our daily lives.
And, because they're close to where we live and where we work, they're also popular places to visit. As you can imagine, such a large number of visits comes with various associated problems. For this reason, it is important to respect the principles of outdoor ethics, even in the city.
Taking responsible actions, such as using only official trails, helps conserve the environment. The spread of invasive species, the fragmentation of habitats and the disruption of wildlife feeding habits are problems that we must collectively try to prevent.
When urban lands and parks are healthy, everyone benefits. Here are some of the ecosystem services they provide:
rainwater storage
erosion protection
flood protection
creation of cooling islands [French-only website]
provision of natural wildlife habitats
A year in my place
I can spend days outdoors, standing in a swamp – or I can be in the office contributing my expertise and doing project analysis. My work essentially consists of maintaining environmental data and ensuring the sound management of natural resources. My main tasks are:
collection of ecological data
design and oversee research studies
implement ecological monitoring programs
provide recommendations on the management of natural resources
support the environmental assessment team in the analysis of the project.
Like nature, my work follows a seasonal cycle. In spring and summer, like the plants and animals I study, I am more active. I spend a lot of time in the field with future biologists under my supervision.
When the colder months approach, nature prepares to hibernate. During this period, I can spend my time taking care of the most sensitive areas. In the winter, I devote a lot of time to environmental assessments and work planning. Office work is inevitable!
My successes
There are always projects that tend to stand out in a person's career. Here are a few of which I am particularly proud.
Restore habitats

To help pollinators and preserve biodiversity, my team and I are restoring habitats and reintroducing them to NCC grounds.
One of my favorite projects is a restoration area in Remic Rapids Park, which was once covered in invasive plants. It is now a diversified and colorful habitat! The most satisfying part is watching the birds and frogs come back and use this healthy new habitat.
Protect a killdeer nest

What I love about my job is that it always has to make room for the unexpected. The story of Bluesnest, which I wrote about in another blog, is a perfect example. My fellow biologists and I got creative to protect a killdeer nest discovered in 2018 in the planned Ottawa Bluesfest main stage footprint. This story captured people's imaginations and garnered a lot of media attention. But it also brought people together and raised awareness about the importance of our conservation efforts.
Reducing the impact of invasive alien species
I also enjoy working directly with people. That's what I did with a project to reduce the impact of invasive alien species in Mud Lake. With the help of volunteers dedicated to this important natural habitat, we have taken steps to eliminate invasive plant species and monitor the spread. Restoring vegetation cover with native plant species is a long process. We couldn't have done it without the support and participation of the community.
Now it's your turn
Green spaces contribute to people's quality of life. By adopting nature-friendly behaviors, you contribute directly to the protection of biodiversity and the natural urban environment. My message for you? Discover these places, and let yourself be surprised! After all, it's so much easier to protect something we love.