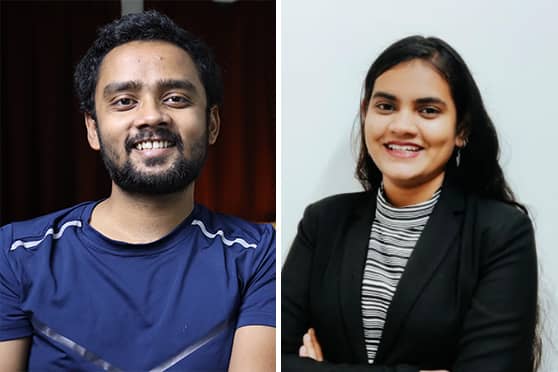 Two students from Symbiosis Law School Hyderabad launch virtual legal aid platform
[ad_1]
Summary
BBA LLB students Rohit Pradhan and Sridhruti Chitrapu launched LexForti as an Android portal and app
The platform simplifies complex legal jargon for laymen
Two final year students from Symbiosis Law School Hyderabad have launched an online platform to provide legal solutions to people. A combination of a legal blog and an academic journal, LexForti breaks down legal terms, concepts, and laws into plain language for laymen.
Meet Rohit Pradhan and Sridhruti Chitrapu, both fifth year BBA LLB students from Symbiosis Law School Hyderabad, who designed and launched LexForti as a free Android website and app.
Edugraph: How did you come together to create LexForti?
Sridhruti Chitrapu: We wanted to launch this website in the first year of law school! But we also knew that it would be a difficult task without some experience. We therefore waited a year before embarking on this project. We are the first to offer a platform that doubles as a legal blog and an academic journal. We have also extended our services with a self-built Android app.
How did you come up with the idea for LexForti?
Sridhruti: During our first year in law school, Rohit and I felt the need for a portal to explain complex legal jargon. We also realized how intimidating it could seem to someone unfamiliar with terms. This was the motivation behind the launch of the site.
What motivated you to choose law as a career?
Sridhruti: Coming from a long line of lawyers, I have always wanted to be part of the legal profession to help people get justice.
Rohit Pradhan: My father is a retired judge. I inherited from him my passion to do justice to all. That's why I can't wait to become a lawyer.
Tell us about LexForti. What makes it unique?
Rohit: This blog and legal journal was created for ordinary people. We present legal news and case law in simple terms. Students, academics and professionals can submit research-related topics for publication here.
In addition to being a blog-journal, LexiFort hosts an annual signature event called the Trademark Prosecution Competition. We have established partnerships with several law firms at home and abroad so that everyone can get an overview of the cases they are handling.
What type of service does the site offer?
Rohit: We provide legal solutions rather than legal advice. LexiFort (https://lexforti.com/) gives readers access to articles that can lead to the right approach to any legal issue they may be facing. For example, an individual or business may visit our website for instructions on how to send someone legal advice. We have different formats of these notices which can be adapted as needed.
How is the portal funded?
Sridhruti: We charge a nominal fee for publishing and use this money for marketing, site maintenance, and payment of remuneration fees to certain authors. We do not charge users and intend to offer our services for free. That's why we don't have a paid subscription plan in place.
What challenges did you encounter when launching the portal?
Sridhruti: Lack of technical knowledge was a major obstacle when we started. We didn't have enough funds to hire a web developer and had to design the website ourselves. Once our website was up and running, we had to familiarize ourselves with marketing and networking. However, we have come to know the tricks of the trade, or at least we think we know them!
Tell us about what you do at LexiFort and the team behind.
Rohit: We have a small group of people who work with us, including a few editors, research assistants, and interns. All are final year law students. These people extract the judgments from the official website of the high courts and the Supreme Court. Our team analyzes the judgments according to the FIRAC method.
Sridhruti: We segment these judgments into different categories like facts, issues, rules, and laws, and post them on the portal in layman's terms. When it comes to legal solutions, we receive quotes from lawyers, law firms, academics and students. Once these submissions are approved by our editorial team, we publish them.
What are your lessons from LexForti?
Rohit: We recognize that the hard work of our team is the only key to our success. This company has taught us the benefits of healthy competition. Good competition always keeps us on our toes and prompts us to stay ahead of others in the market.
What are your plans for the future?
Rohit: Our organization has grown beyond our expectations. We hope to extend it to new arenas. We plan to continue with LexiFort even after we graduate. Once we become licensed attorneys, we would like to offer legal advice to people for free. We will definitely set up our own law firm.
Last updated on December 26, 2021
[ad_2]