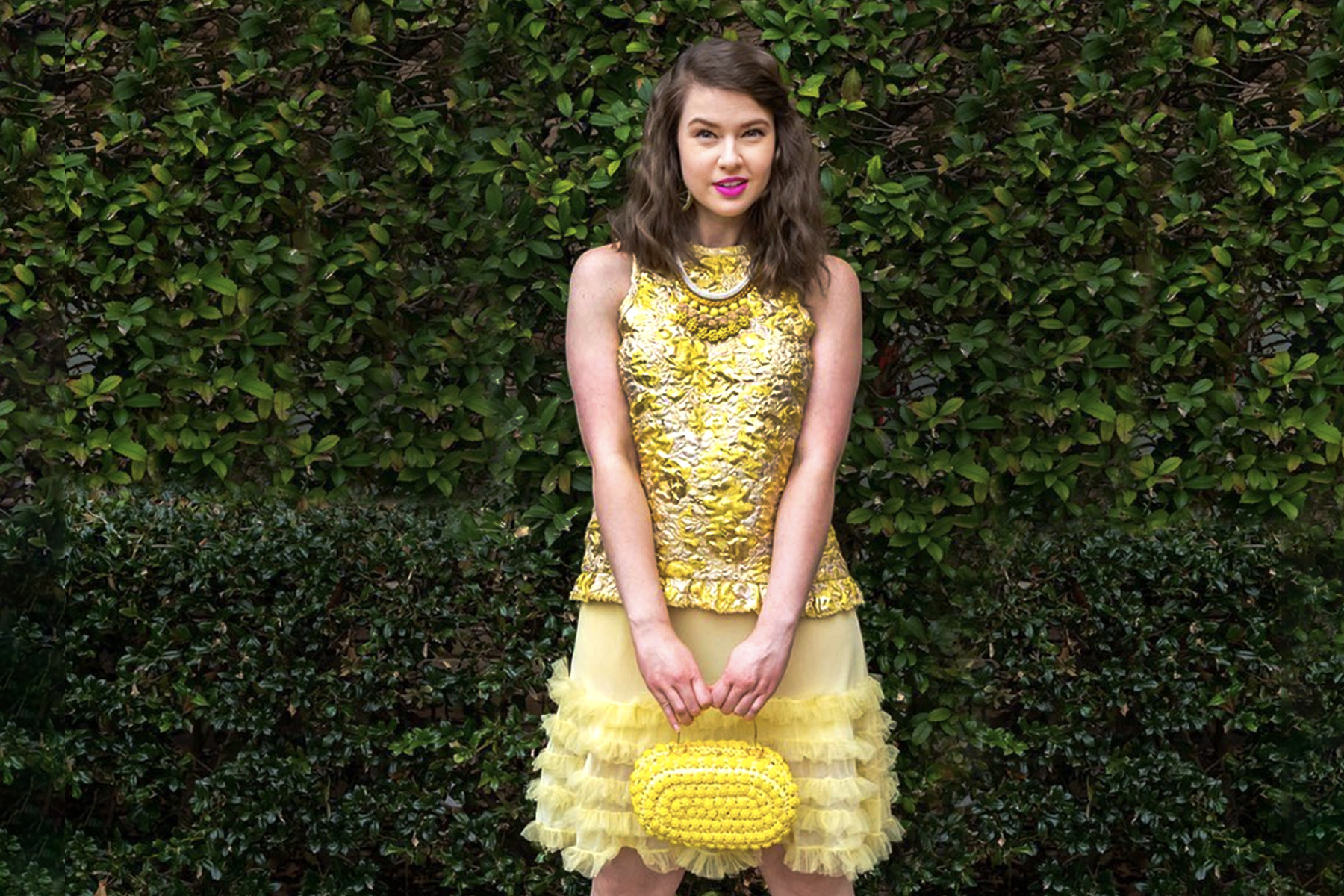 Style Spotlight: Karalyne Grammer, Blogger and Vintage Enthusiast
[ad_1]
Karalyne Grammer was born and raised in a fashion obsessed family. Both parents worked as retail buyers and she attended fashion shows when she was six months old. The Charlotte native moved to Dallas a few years ago to launch a career in merchandising and styling. She has held relays with boutiques, department stores, fast fashion companies and luxury brands; Ironically, the only retail industry she hasn't worked in is vintage, though her own wardrobe is chock-full of second-hand finds.
Grammer describes himself as a style chameleon and documents his experimental looks – mix of patterns, layering and unexpected color combinations – on his Instagram account @BestDressedWallflower. We caught up with Grammer to find out what draws him to vintage pieces, how his signature look has changed over the years, and what the next step is for his growing online presence.
What inspired you to launch @BestDressedWallflower and share your vintage style with others?
I've spent years in jobs where I had to wear a corporate uniform: all-black looks or pieces from a specific brand. It stifled my creativity and my large wardrobe hung intact in my closet. My New Years 2020 resolution was to post my looks on Instagram as a creative outlet. I became an "everyday dress poster" in March 2020 when I was fired due to COVID-19. I'm someone who needs a reason to do my hair and makeup and get out of the house every day, so styling my hair and posting pictures has kept me sane. It's had a huge impact on my life – the way I spend my time, the people in my life (and my new online community), the mode of creative expression I finally have access to, and all the positivity and the light it brought to me. I didn't understand the appeal of Instagram. Now I can't imagine my life without it.
How would you describe your personal style?
I've always dreamed of being different, and if something was popular, I didn't buy it on purpose. What I'll wear from day to day doesn't have to be the same aesthetic; I really am a style chameleon and a maximalist. However, at the heart of what I love is the pattern, color, texture, and visual interest. I like to mix vintage and modern pieces. The real twist in my style developed in my early forties when I took experimentation to the next level. Now, I don't feel "finished" in a non-layered look.
How has this style evolved over time?
I loved short summer dresses and wearing tights layered under shorts. Now, however, I understand my body type and pay attention to the kinds of things I feel good about wearing, so I go for midi styles. I also used to buy a ton of fast fashion. When I worked in malls, I had nothing to do during my hour-long lunch breaks other than shopping. I haven't given up on fast fashion, but over the past few years I've come to a place where vintage is almost everything I buy. I really appreciate the depth that vintage pieces bring to a look and the way they elevate an outfit, and the quality of fast fashion just can't stand up to them.
What are some of your favorite vintage shops in Dallas?
Dolly Python in Dallas, Vogue Vintage Frocksy in Garland, La Casa Rétro in Bedford, and Studio 74 in Fort Worth. Ruth hickman has a fantastic vintage stand inside Trinkets in Duncanville. I also like the stalls with vintage clothes and accessories inside North Dallas Antique Mall.
Is there a certain style that you can't resist buying?
My obsessions with vintage fashion are sequins, towel dresses, and lucite and wicker handbags. I need more like I need a hole in my head, but these are weaknesses for a reason.
How much are you going to modify a room if you like it but it doesn't quite fit you?
I'm short, and my dresses' shoulders are often pulled up. The most dramatic modification I have ever undertaken was to transform a vintage 70s Neiman Marcus dress with a low waist into a shape that suits my body type (an A line) because I loved the fabric. It was such a challenge, and it took many revisions to try and get the tailor to understand exactly what I wanted. I would like to have the sewing skills to do a good retraining myself because there are so many possibilities.
What element of your wardrobe is used the most?
My gut reaction is "nothing". I could probably go a year without rehearsing an outfit. I'm going to redesign a piece in a totally different look, more for the sake of the challenge than the need for re-wear. Probably the most successful pieces are voluminous maxi dresses that I can pull on without having to spend the time or think about my outfit on the days off.
Do you have any fashion regrets?
In sixth grade, my signature look was a hairstyle topped with chopsticks, brown lipstick, glittering eyes and cheeks, and platform shoes. I don't regret it at all. I love that I was so daring and being able to own my style choices, even if others didn't understand them. As long as I'm having fun with fashion, that's all that really matters to me.
When buying new ready-to-wear pieces, how do you decide which ones to invest in? Do you tend to go for classic or wilder pieces?
I'm not really the investing type – I'm more of a value proposition type girl. If I buy more intentionally (which has nothing to do with the price of an item, but rather considering how much I like it and how I will use it), it helps me curb my consumption. The more I have, the more I really have to think about what extra pieces I bring into my wardrobe. It is no longer enough to love a room. Will the piece be a wonder, or is it something that can have more longevity in my wardrobe thanks to a multiway style?
Are there any Instagram accounts you like to follow for style inspiration?
There are so many, so I'll try to keep it fair by referring to some of my favorites that I frequently checked in when I was just starting to pay attention to Instagram:
@Susiebubble
@Thedandyliar
@ Levintageepicurean
@Ragpepper
@Fancytreehouse
From an ethical standpoint, why is vintage shopping important to you?
I didn't really look for a path to a more sustainable lifestyle – I ended up here as a happy accident. Vintage and second-hand shopping curbs the overproduction of the fashion industry and the inherent exploitation of our planet's vital resources. It also keeps clothes from ending up in landfills and helps reduce the prevalence of garment workers who have to endure poor working conditions for minimum wages.
What's next for you and @BestDressedWallflower?
I'm on the cusp of my brand's official launch with BestDressedWallflower.com, which will be live in October. My goal has always been to open my own store. I'm excited to make this dream come true by launching a website where I can sell my finds to vintage enthusiasts around the world. BestDressedWallflower.com will feature unique women's clothing and accessories, men's clothing, and home items.
Follow Karalyne Grammer on @BestDressedWallflower for more.

[ad_2]