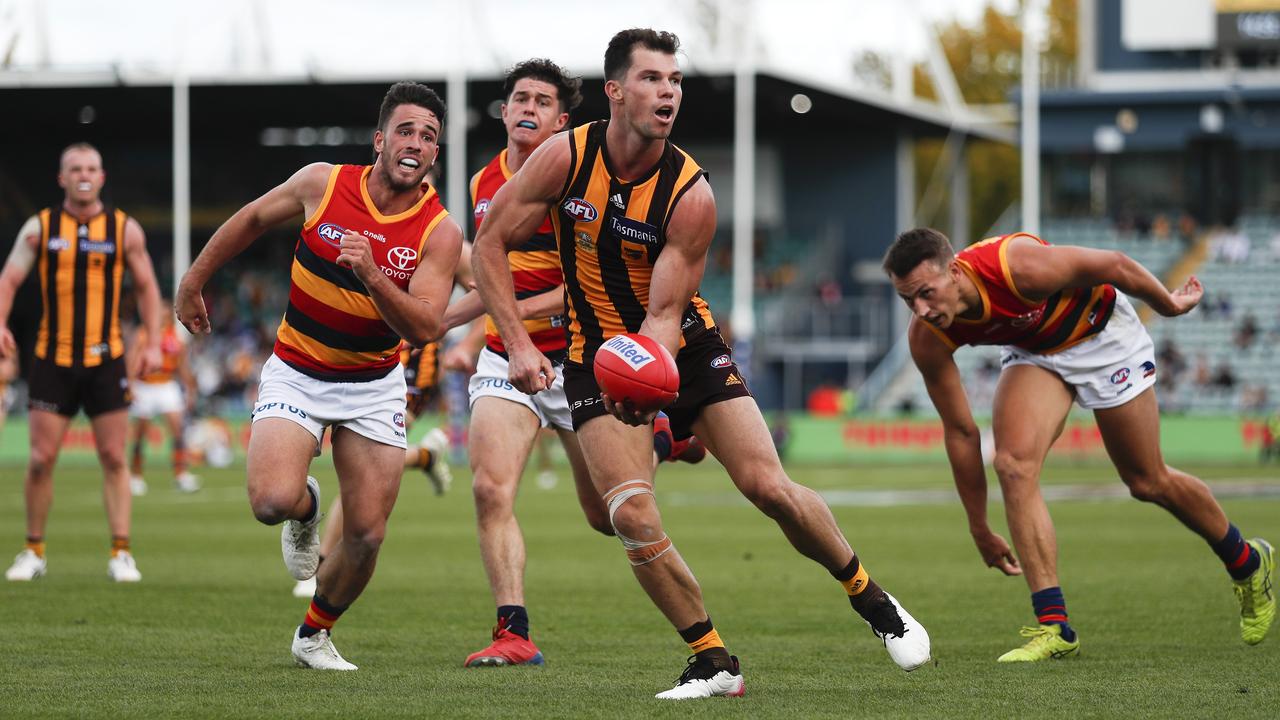 Live broadcast, stats, video, result, news, blog
Hawthorn beat Adelaide by 32 points, 13.8 (86) to 8.6 (54), trailing five first-half goals from Mitch Lewis to snap a five-game losing streak.
It looked like it was going to be a one-sided affair early on after the Hawks scored six goals against Adelaide in the first term, but the Crows gradually clawed back the deficit over the next two terms.
Tensions were then high among Hawthorn fans at Marvel Stadium after Adelaide scored the opening goal of the fourth quarter. But Sam Mitchell's side woke up with the next three majors to put the game out of reach.
Stream all the action from the Austrian F1 GP this weekend on Kayo. Pre-race coverage begins Sunday at 9:30 p.m. AEST, with live racing starting at 11 p.m. New to Kayo? Try free for 14 days >
It was Hawthorn's 1000th win in club history and their first victory since being ousted from Brisbane in the 10th round.
With that, the Hawks overtook the Crows to take 14th place on the ladder, with both clubs sitting on five wins.
QUARTER BY QUARTER MATCH REPORT
James Sicily was heard arguing with the referee early in the game which led to a dissenting free kick to Ben Keays in front of goal, but luckily for Hawthorn he didn't make them pay.
Young Hawthorn Finn Maginness has been tasked with a defensive marking role on Jordan Dawson, who has been in fine form for the past few weeks.
The Hawks got off to a good start with back-to-back goals against Ned Reeves and Jarman Impey to take the lead in the competition.
Mitch Lewis converted a set piece from long range to make it three in a row for the hosts.
"Perfect start for the Hawks, they are on top in this game," said Channel 7 commentator Luke Darcy.
Taylor Walker stemmed Adelaide's bleeding by netting a tight shot late in the quarter and then missing her next chance from an easier angle to get even closer.
Lewis made them pay at the other end with his second major of the day before ending the following game with a football goal in the box for his third goal in the opening period alone.
"Mitch Lewis is really emerging before our eyes," Darcy said.
Channel 7 commentator Alister Nicholson added: "It was an emotional performance from Hawthorn…they took a significant lead."
Hawthorn took a 31-point lead in the first break, 6.3 (39) to 1.2 (8).
"A completely dominating quarter for the Hawks," Nicholson noted.
Lewis continued his hot form with his fourth goal six minutes into the second term after a brilliant left foot at the snap of his fingers in what had been a brilliant start for the 23-year-old.
" He shoots ! He may be setting up for a career day," Nicholson said.
It was still one-way traffic in the second term as Hawthorn maintained the upper hand in the contest.
Lewis netted his fifth goal minutes later to equal his already career-high five Majors in a game in an insane feat, previously hitting the mark against Port Adelaide in the second round.
He is the first Hawthorn player to score five goals in one half since Luke Breust in 2018.
Riley Thilthorpe scored a much-needed stabilizing goal for Adelaide late to pull them back to a 32-point deficit.
Hawthorn took a 38-point halftime lead, 9.4 (58) to 3.2 (2o).
Ben Keays scored the first goal of the second half with a snap around his body, with Darcy wondering if this "could be the start of something".
The Crows started to find their groove but missed some set-piece chances through Darcy Fogarty and Thilthorpe.
Hawks great Campbell Brown noted the club could be tired after last week's GWS away clash in wet conditions.
"There's no doubt the Hawks aren't covering ground like they were in the first half, they're just a bit tired," he said on Channel 7.
"Maybe it's coming from those heavy, wet conditions at Giants Stadium, that's got to eliminate them."
Thilthorpe used his next opportunity to get the Crows within 24 points.
The Hawks led by 26 points three quarters of the time, 9.7 (61) to 5.5 (35).
Adelaide kept up their hot game in the fourth quarter, scoring the opening goal through Ned McHenry and continuing to threaten to push further.
"Sudden nervous tension across Marvel Stadium… Suddenly beleaguered Hawks," Darcy said.
But Jaeger O'Meara netted a timely set-piece at the other end to level off to ship for the hosts, while Breust and Jacob Koschitzke added two more to bring him back to within a 38-point game in this which turned out to be the seal of the match. surge.
THE 3-2-1 (what we learned)
3. 'MITCH LEWIS SHOW' WOWS EARLY
It was a two-half story for Mitch Lewis, but he was still the match-day winner with a career-high five first-half goals.
Lewis looked inauspicious early on, scoring three goals in the first quarter just to set up the Hawks' dominating start to the game.
He then scored his fourth goal six minutes into the second quarter to have five majors at the main break, with Fox Footy pundits predicting he was in line for a monster sack.
He also became the first Hawk to score five goals in a first half since Luke Breust in 2018.
"That was the Mitch Lewis show, right? Former Fremantle star Michael Barlow said AFL Nation.
"He's involved in everything, the first eight scores of the Hawthorn game, he's been involved in every score, either kicking them or setting them up.
"It was huge from him, Adelaide changed the game but the Hawks were on fire.
But Lewis was then much calmer in the second half, held scoreless with just two eliminations and even injured his knee in the fourth term.
Although it was yet another monumental performance from the Hawk breakout in the midst of a career-best season.
Lewis also clearly enjoys playing against South Australian clubs, scoring five goals against Port Adelaide in the second round.
He now has 36 goals in 12 games at an average of three per game – a higher average than current Coleman medal leader Jeremy Cameron.
YOUNG GUN STAR'S BRILLIANT STOPPING
Sam Mitchell has clearly identified Adelaide star rookie Jordan Dawson as the club's most dangerous player, sending him Finn Maginness in a stopping role.
And the youngster covered Dawson on the day of what was a big win for the Hawks, limiting the Crow weapon to 15 eliminations, the lowest of the season.
"The job they did on Dawson was outstanding," Saints great Nick Dal Santo said on Fox Footy during the game.
While Rory Laird (42 touches), Ben Keays (30) and Matt Crouch (28) were allowed to go wild, their possession volume isn't as valuable as Dawson's.
This included Dawson having only nine eliminations until three-quarters of the time before being advanced to fourth term, freeing up the Maginness tag.
It comes after a stellar streak from Dawson, where if not the Crows' disappointing season, you suspect he'd be up there in the All-Australian fight.
Going into the game, Dawson had been in scorching form, amassing 32, 29 and 30 touches respectively over his last three games while averaging 24.3 kills and 7.9 career points.
HAWKS' HOT START THE DIFFERENCE
The victory came on the heels of a blistering start for Sam Mitchell's side, scoring six goals against Adelaide in the first quarter.
Other than that — and a fourth-quarter push from the Hawks — there really wasn't much going on between these teams, much as their ladder split of just 4.4% suggests.
Hawthorn's 39-point first quarter marked his second-best first quarter in six and a half seasons.
And Hawks legend Dermott Brereton called out the Crows for their slow start and lack of a fight.
"If I was in the Crows coaching box, I would be really disappointed with the effort put in in the first 40 minutes. I thought they were pretty average," he said on Fox Footy at halftime.
"They're a team that needs to push until they start picking up a bit more talent at the club."
The Crows answered that call with a dominating third quarter, but despite all their hard work, they only went two more majors while keeping Hawthorn scoreless in the period.
You felt Adelaide needed to hit the scoreboard harder than them during their period of ascent, and Hawthorn proved it, scoring three goals in a row early in the fourth quarter closed the door to any potential comebacks .
Relive Hawthorn v Adelaide in our live blog below!
If you don't see the blog, tap here.