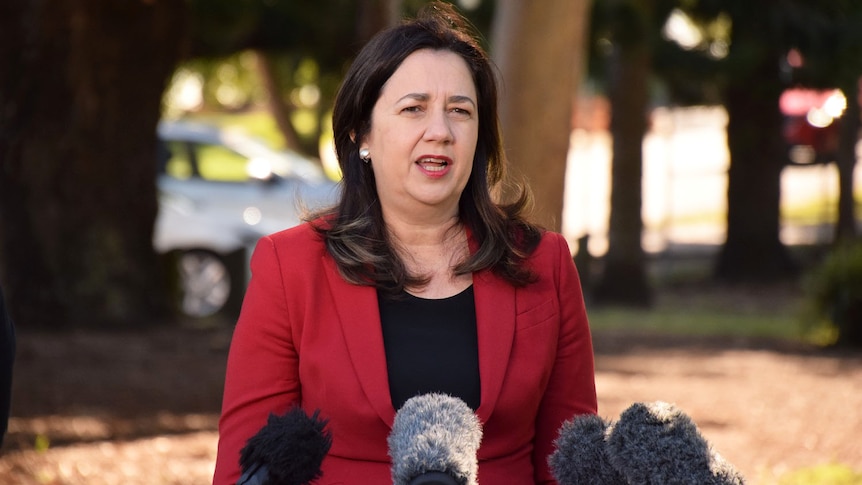 COVID updates: Queensland announces three-day lockdown as NSW, WA and NT closely monitor local outbreaks – as happened
Garry says he was unlucky to have developed blood clots after AstraZeneca COVID-19 vaccine
A 7:30 am report by Ellen Coulter
Garry and Mary Richardson can often be found outdoors around the beaches and the bush of their home on Tasmania's east coast. But the couple's walks are getting shorter at the moment.
Mr. Richardson has spent the past eight weeks recovering from blood clots in his liver and lungs. He developed severe abdominal pain seven days after his first dose of the AstraZeneca COVID-19 vaccine.
"The pain was so bad that I said to Mary, 'I have to go to the hospital,'" he said.
Mr. Richardson is 70 years old and had only ever been hospitalized for one-day operations. He was airlifted from his local district hospital in Launceston, where he went to the emergency department.
"And it took about five days, it could have been six, for them to figure out that I probably had the AstraZeneca blood clots."
Mr Richardson is one of 64 Australians who have had a confirmed or probable thrombosis with Thrombocytopenia Syndrome (TTS) possibly related to their AstraZeneca vaccine.
Two people died after developing the side effect of blood clotting.
Mr. Richardson knows his case is very rare. Over 4.2 million doses of AstraZeneca have been administered in Australia.
"I definitely decided that I was out of luck, because a friend of mine said, 'You could've won [the lotto], you have the same chances, "said Richardson.
Mr. Richardson was hospitalized for 16 days and is still taking blood thinners and having weekly blood tests.
"Over the past month, I have gotten stronger every day, but I still can't do what I can do until it happens," he said.
He is satisfied with the care and treatment he received, but Mr. Richardson does not know what the long-term effects of his blood clotting will be. His experience has not turned him against vaccinations in general.
"I believe we have to achieve collective immunity, but it's up to everyone to make their own opinion," he said. "And I think people make up their minds much faster if the government is to abandon AstraZeneca altogether and just focus on Pfizer."
Due to his reaction to AstraZeneca, Mr. Richardson is scheduled to receive Pfizer for his second dose. His wife took her first dose of AstraZeneca at the same time and will return for the second.
"I was okay the first time around, so I guess I'll be okay the second time around," Ms. Richardson said. "It's important to do it for the greater good. But I think we have to be very careful in telling people to do things for the greater good if there is any risk involved. And so it depends on what. point it is essential that they take that risk. If there are other options, then maybe we should work in that direction. "
For Mr. Richardson, it's a matter of individual choice based on the best advice.
"I think people have to make their own decision and talk to their doctors," he said.
Read the full story here.