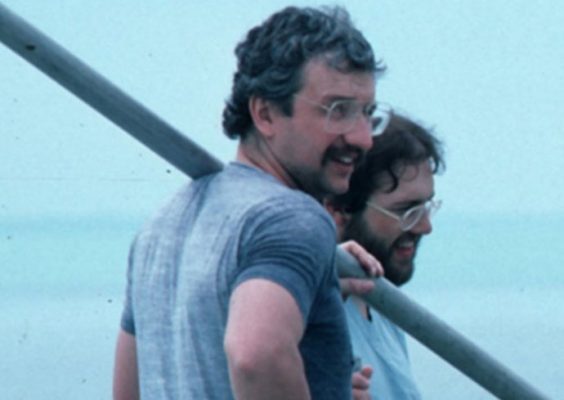 College of Arts and Sciences mourns loss of retired professor Hank Mullins
Hank Mullins, a nearly 30-year faculty member in the Department of Earth and Environmental Sciences at the College of Arts and Sciences (A&S), died in July at the age of 69.
Mullins grew up in the Hudson Valley village of Ghent, New York, and developed his passion for science at the State University of New York-Oneonta, where he obtained a BS in Geology in 1973. He then got an MS at Duke. University in 1975 and doctorate. at the University of North Carolina (Chapel Hill) in 1978.
In 1977, Mullins accepted a tenure track assistant professor position in marine geology at California State University's Moss Landing Marine Laboratory consortium on Monterey Bay. There he diversified scientifically to work on low oxygen marine environments, coral reefs, lagoons and estuarine systems in many parts of the world.
Mullins joined the Department of Geology at Syracuse University (now the Department of Earth and Environmental Sciences) in 1983, with the aim of strengthening the research and higher education profile of that department and d 'A&S. It has received significant funding from the National Science Foundation and the American Chemical Society / Petroleum Research Fund. As a graduate student mentor, Mullins' colleagues say he has demonstrated a distinctive blend of rigor and personal support. In 1997 he received the William Wasserstrom Award from the College of Arts and Sciences for Excellence in Graduate Teaching, recognizing a "distinguished scholar whose work is characterized by its originality and distinctiveness."
As editor-in-chief of the first journal Geology (1990-1995), Mullins strongly influenced the publication of scientific findings, notably the publication of the article by Alan Hillebrand et al. documenting the discovery of the Chicxulub crater, recording the Cretaceous-Paleogene impact that triggered rapid extinctions of dinosaurs and many other groups. For his editorial leadership in the geological sciences, the Geological Society of America honored Mullins with its 1995 Distinguished Service Award.
Mullins retired from college in 2011, although he continued to write by publishing "Will Population + Technology = Armageddon?" that year, and two books in 2014 exploring earth science themes for the general public: "The Simple Science of Global Climate Change" and "Knowledge for Non-Scientists and Is Gaia God: A Personal Journey" .
In memory of Hank Mullins, donations can be made to the following organizations: Syracuse University Department of Earth and Environmental Sciences (check the "Hank Mullins Student Support-Earth Sciences" boxes) or the Foundation Parkinson's.
Read Hank Mullins' full obituary.