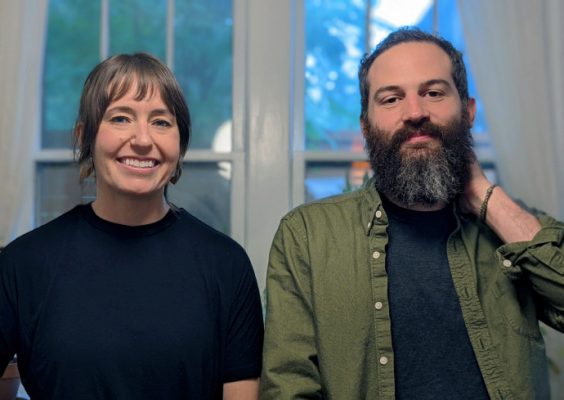 Architecture Professors Named University of Columbus Design Research Fellows
Christopher Columbus exhibition announced seven University Design Research Fellows (UDRF), including Molly Hunker and Greg Corso, assistant professors in the School of Architecture, who have been selected to participate in the 2022-23 cycle of the exhibition which this year will put a special focus on downtown Columbus, Indiana, rich in modernist architecture.
As a flagship program of Columbus Historic Foundation, Exhibit Columbus is an exploration of community, architecture, art and design that activates Columbus' modern heritage. Over a two-year cycle of events, conversations are held around innovative ideas, then site-appropriate installations are commissioned to create a free public exhibition.
Now in its fourth cycle, this year's theme, "Audience by designbuilds on the legacy of Columbus to explore how community and designer collaborations can revitalize and reimagine historic downtowns as equitable, beautiful, healthy, and joyful places.
The fellows were selected through an open national competition for full-time university professors whose work is deeply rooted in design research. Applicants were asked to "respond, improve, and/or critique" the downtown activation strategies recommended by James Lima Planning + Development (JLP+D) within the company's City of Columbus. Downtown Activation Study.
Shortlisted candidates were selected by six curatorial partners and then chosen by a 13-member jury of community stakeholders. Although the UDRF is not a new component of Exhibit Columbus, this is the first time that Fellows have been selected via an open competition and judging by a cohort of community members.
"These fellows represent a cross section of artists, architects, and landscape architects working in the United States right now. They're an impressive group whose research is advancing important work in sustainable materials and design. community into the public domain," the six Conservative partners said in a joint statement.
Fellows, as well as four J. Irwin and Xenia S. Miller award winnerswill place the many communities of Columbus at the center of conversations and do so in a public format by creating specific opportunities for engagement between designers and the citizens of Columbus.
Winning scholars can apply for a budget of up to $10,000 to support the design and construction of a public university research facility that explores improving Columbus' downtown corridor, rich in modernist architecture, in the 'Indiana.
As founders of the award-winning design collaboration, SPORTS, based in Syracuse, New York, Hunker and Corso's work focuses on creating engaging spaces that are catalysts for social activity. Much of their work has been public interventions that capitalize on the possibility that simple gestures of design and fabrication can have meaningful urban and community impacts.
"The theme of public design makes us think of design that privileges multiple possibilities and perspectives, rather than a specific way of understanding or using something," say Hunker and Corso.
Hunker and Corso's design approach for The Fellowship centers on exploring three main elements: context, flexibility, and atmosphere. Drawing on the unique physical/architectural context of Columbus, they propose to frame their installation as an infrastructural intervention – an architectural intervention that supports and promotes a range of unique and exciting possibilities within the community.
"By integrating color, shape and material effects into our project, we aim to create a dynamic design that allows people to rediscover familiar inner-city spaces with new atmospheres and experiences," Hunker and Corso explain.
Approaching the installation as an educational experience, Hunker and Corso plan to involve students in various aspects of the process and completion of the project. Such participation gives students a unique perspective of architecture outside of the classroom.
Additionally, acting as a provocation to visitors and locals, Hunker and Corso see an incredible opportunity to engage the community in the project process, especially through physical interactions and programs designed to deepen their relationship with the space. .
"We are excited about the value the city and community of Columbus see in the design," Hunker and Corso said. "What a special perspective – to see extraordinary design work that makes the built environment an ordinary part of everyday life."
UDRF partner locations will be announced later this month around the Exhibit Columbus 2022 symposium, taking place in downtown Columbus October 21-22.